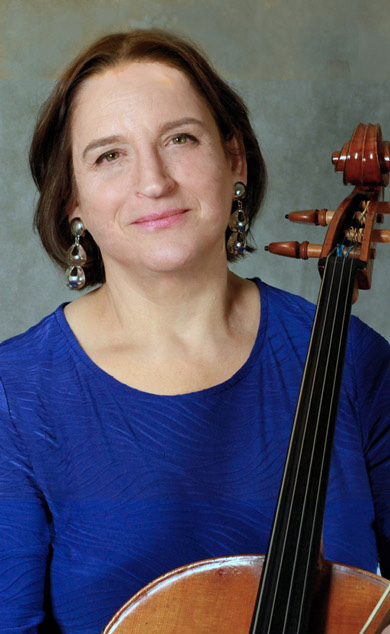 Israeli musician Michal Schmidt has been described as " ...a splendid musician, inspired and inspiring.... she has a highly inquisitive and intellectual approach to music coupled with superb tecnnique and magnificent sound". Active as cellist and pianist Ms. Schmidt studied at the Academy of Music of Tel -Aviv University in Israel, (undergraduate), the Royal Academy of Music in London UK (Artist Diplomas in both cello and piano), the Curtis Institute of Music (Diploma) , the University of the Arts (Masters of Music degree) and Temple University (DMA degree/ Doctorate in Cello Perormance ). Her dissertation for the DMA "Two Sonatas, Two Insturments - One Performer" is accompanied by a recording of two of the cello sonata by Beethoven with Ms. Schmidt playing both the cello and the piano parts.
Michal has been active in numerous performing groups including the orchestra of the Opera Company of Phildelphia, Trio Camille, FourHorizons, Tiadam Trio ( Israel), Network for New Music, Trio MiReSol, Piano4. In 2014 she was the acting principal cellist for the Philadelphia Chamber Orchestra for a U.S tour in twenty cities with soloist Branford marsalis. In addition she is a recitalist, accompanist, teacher and chamber music coach.
Ms. Schmidt has taught at Dickinson College (2000-2008), Haverford College (2005-to date), University of Pennsylvania ( 2009-to date). She was the Brandywine Visiting Artist at West Chester University in 2013-14 and professor at Rowan University 2017-18. She is a member of the faculty at the Maine Chamber Music Seminar, a summer program for college and graduate level students, focusing on chamber music.
In 2007 Ms. Schmidt established a series of annual concerts " TRIBUTE", which is dedicated for the most part to presenting contemporary works of composers she has worked with personally. Among the composers whose works she has performed are: Richard Wernick, Osvaldo Golijov, Margaret Garwood, Laurie Laitman, Sylvia Glickman, Robert Maggio, Andrea Clearfield, Noam Sivan, Luke Calrson, Ofer Ben Amots, Philip Maneval and many more.
A few special Tribute concerts celebrating various anniversaries included a marathon of Brahms Sonatas (2007), a Schumann Tribute (2010), a marathon of the Cello Sonatas of Beethoven (2015), The Grand Violin Sonatas of Beethoven ( 2016), A Schubert Tribute (2018), a Tribute to composer Andrea Clearfield ( 2019), the full Beethoven Violin Sonatas Cycle - in progress (2019-2020).
Michal's newly released recording "SOLA," includes a number of the works performed in the Tribute concerts to date.